Entrepreneurs making the World Better!
Be a SErtified Social Entrepreneur!
Help your career. Help the world. Become a SErtified Social Entrepreneur by creating and leading a philanthropic mission. Working with SErtified you'll have all the inspiration, training, support and validation you need for a successful mission.
Benefits
You can enjoy the dual benefits of being an entrepreneur as well as the ultimate fulfilment of philanthropy. Forbes Magazine calls Entrepreneurs 'The happiest people on earth' and we happen to agree with them, so does Business News Daily, they say; 'Want to be happy in your career and personal life? Become an entrepreneur.' Seems like good advice to us…
Help Your Career
Earning your Social Entrepreneur SErtificate demonstrates that you are a caring person making positive contribution to your local and global community. It proves that you have proven leadership, communication and business skills alongside initiative and a flair for creativity. All irresistible qualities for colleges and employers.
Create and Lead a Philanthropic Mission
SErtified provides a free service to support social entrepreneurs just like you complete your missions, and, once you are successful we issue SErtifications to validate your work and accomplishments and propel your career.
"A SErtified is like an Eagle Scout Project for Adult Entrepreneurs. Everyone should do it."
"SErtified establishes a new career paradigm."
"A SErtificate proves that a job candidate is a community leader."
Our team here at SErtified want to make it really easy for you to be successful. We will provide support, training and inspiration, all we ask is that your mission meets the following criteria.

1. Join the SErtified Social Entrepreneur Community.
When you have completed your profile and introduced yourself in the Forums you will earn your first badge, The 'SErtified Member Badge'. This is the first one that you can put on your social media and LinkedIn accounts.
2. Develop your idea and business plan.
Do you see a philanthropic need and have a truly entrepreneurial solution. An exciting idea that people will get excited about and can really make a difference? Get inspiration and support by participating in the forums.
Once you've got a great idea, we'll help you complete a business plan and a website. We even give you the free tools to do them. Our awesome website builder creates your site automatically and you have full control to make all the changes you like simply by pointing and clicking.
The SErtified committee and community will help you build a really simple but robust business plan that will include your Mission Statement, Quantified Goals and budget.
Once that's been approved by our committee you will earn your SErtified Plan Approved Badge and the fun can really begin!
3. Execute
Make It Happen. After you have received approval on your Mission it's "Go Time". We'll do everything we can to support you being successful.
We've even made sure our SErtified platform integrates seamlessly with other crowdfunding services like, GoFundMe.
You need the following items in order to receive your Social Entrepreneur SErtificate and SErtified Social Entrepreneur Badge:
100 Facebook likes for your Mission

A completed Validation Letter from your Beneficiary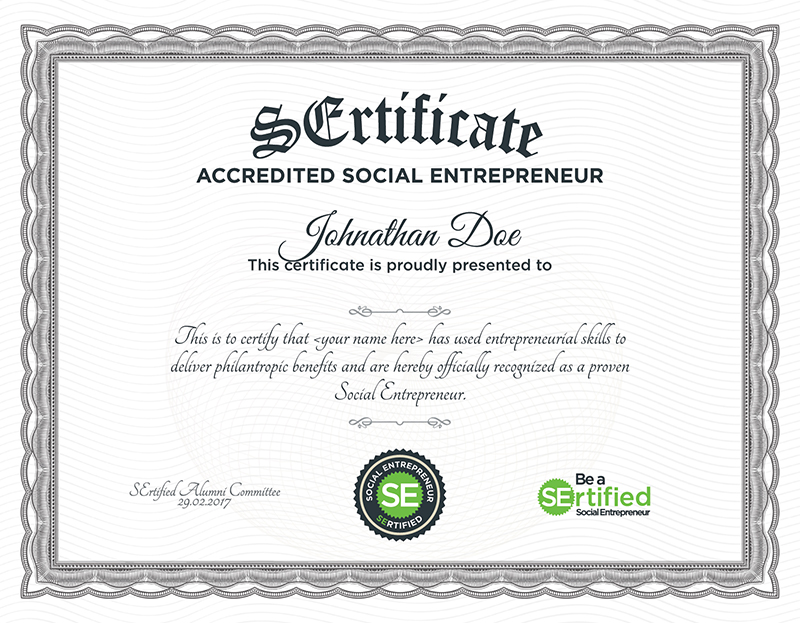 Will Marks wanted to support the MS Society. His Mother suffers from multiple sclerosis. Will had volunteered and he had raised money by running in fun runs but he wanted to do more. Will had an idea, he wanted to start his own fun run for the MS Society, but he faced lots of competition for fun runs.  So like any great entrepreneur, Will had to innovate and differentiate.
Will decided to schedule his run on a Wednesday evening after work.  They called it the "DuskBuster".  It has been a great success for ten years delivering $500,000 to the MS Society.  Please read about it in his blog.
We are proud to have Will serve on the SErtified Alumni Committee helping to approve and validate Mission plans and allocate donations to the SErtified Fund.